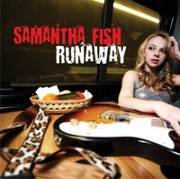 We've talked here before of the vocal and guitar prowess of Kansas City blueswoman Samantha Fish, who you may recall as one-third of Ruf Records' Girls with Guitars Blues Caravan along with U.K. blues/soul singer and guitarist Dani Wilde and multi-instrumentalist Cassie Taylor. But today, the spotlight focuses (mostly) on Fish as a solo artist, following the recent release of her own album Runaway on the Ruf label.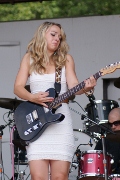 That's not to say Fish is entirely removed from her Girls with Guitars colleagues on this outing: Cassie Taylor and Jamie Little join Fish on bass and drums, respectively, with GWG producer Mike Zito also returning, both behind the board and on guitar and vocals. Together, they help to create a dynamite debut from the blonde performer Taylor playfully referred to as "Guitar Barbie" during the Caravan's appearance at this summer's Pittsburgh Blues Festival, where we had a chance to snap these photos.
Kicking off on an edgy "Down in the Swamp" that nicely illustrates the grittiness of both the 22-year-old's voice and guitar, Fish moves to the boogie of the album's title track as well as the slow, sweet blues of the often-humorous "Today's My Day." The slow shuffle of "Money to Burn" and quiet, jazzy, Eva Cassidy-like closer "Feelin' Alright" do particularly well in showcasing the smoky side of Fish's voice, while the vocally-rich "Soft and Slow" and a rocking duet with Mike Zito in "Push Comes to Shove" both help to bring out the country blues in the midwestern girl.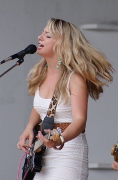 Also included here are a tender take on Tom Petty's "Louisiana Rain," a funky, riff-heavy "Leavin' Kind," and the superb shuffle of "Otherside of the Bottle," making for a fine offering from this rising young talent.