Last summer, we told you about the Muddy Waters 100 project, on which former Waters band guitarist John Primer and a collection of friends paid tribute to the late blues master with a set of updated takes on a number of Waters classics, many incorporating such modern effects as electronic drums and drum loop programming to help achieve producer Larry Skoller's goal of demonstrating that "in one way or another, these sounds all lead back to Muddy Waters". While that revisiting-the-classics approach certainly seems to have resonated with blues fans and critics alike, with Muddy Waters 100 having earned blues album of the year nominations in both this year's Grammy and Living Blues awards, this rootsy new release from West Coast sensation Fantastic Negrito also serves as a nice example of the influence the blues has had on the broader music industry through the decades, with sounds ranging from Lead Belly to the Beatles to Prince and Gary Clark Jr., blending in its fair share of alternative, hip-hop, and rock along the way.
Negrito, you may recall, catapulted to fame last year after winning NPR's inaugural Tiny Desk Concert Contest. Shortly after, his song "An Honest Man" could be heard as the opening theme on Amazon's original series Hand of God, with Negrito also making several guest appearances on the show throughout the season.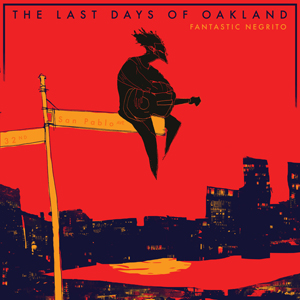 After a couple of powerful EPs, Negrito has released his much-anticipated debut full-length album in Last Days of Oakland (Blackball Universe), a raw, insightful recording that tackles such timely issues as race, police violence, economic and wage disparity, and the current state of his longtime home of Oakland, California, through a rich combination of grooves and catchy riffs that Negrito describes as "blues with a punk attitude".