Five decades after its beginnings as part of the British blues explosion, Savoy Brown continues to cast a familiar blues-rocking spell on the band's latest album Witchy Feelin' (Ruf Records). Now down to a trio made up of founding member Kim Simmonds on vocals and guitar joined by Pat DeSalvo on bass and Garnett Grimm on drums, the band rolls through just shy of a dozen tracks thick with stinging guitar and rich, steady grooves.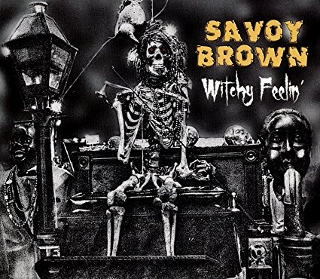 Opening on the powerful, shuffling "Why Did You Hoodoo Me" and a gritty, crawling "Livin' on the Bayou" that mixes Simmonds' often Mark Knopfler-like vocals with some David Gilmour-ish guitar solos, Witchy Feelin' is already a winner before you even arrive at the album's creeping title track and such other gems as the steady-rocking "I Can't Stop the Blues"; a laidback and lonesome "Standing in a Doorway" that will help fill up your musical drinking glass with its gentle vocals and thick slide riffs; a hard-driving, Cream-like "Can't Find Paradise"; and a slow-cooking, wah-filled "Thunder, Lightning & Rain" on which the band brings things down a bit to allow Simmonds' guitar to do much of the talking.
The album concludes on the soft instrumental "Close to Midnight" and, if you like that, you might also want to check out another somewhat recent project in the form of Simmonds' solo Jazzin' on the Blues, a jazzy and quieter instrumental acoustic album that also finds Simmonds contributing harmonica and bass on several songs, joined only by Ron Keck on percussion.