One of the last album reviews we posted in early 2020 before Covid forced us into a long unexpected hiatus was the Phantom Blues Band's Still Cookin'. Being that we're still slowly getting back into the swing of things ourselves after the pandemic, we were delighted to hear that the Phantom Blues Band was dishing out another new album this summer, especially after the unfortunate passing of the band's organist and vocalist Mike Finnigan in August of 2021.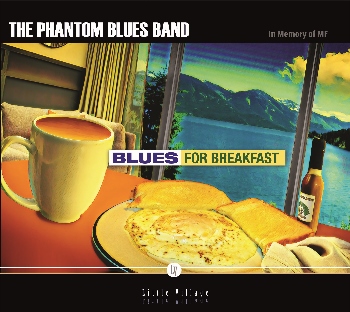 Keeping with their recent culinary theme, this latest album is titled Blues for Breakfast (Little Village), and is dedicated to the late Finnigan, with proceeds from the album also going to the scholarship program at the Mike Finnigan School of Music in Salina, Kansas.
Finnigan fans will be pleased to hear the master singing and playing once more on the swinging original "Ok, I Admit It," as prime an example as any of Finnigan's greatness at his trade, with Finnigan's talented son Kelly also contributing an organ solo on the soulful "I Know You Don't Love Me No More" (Ike Turner) alongside Curtis Salgado on vocals.
While no one will ever truly replace Finnigan in either our ears or mind, veteran keyboard player Jim Pugh (Robert Cray, Etta James) fills in better than anyone else ever could on the remainder of the album, sounding very much like he's been playing with the band for years.
Continue reading