Recently, we told you about a 100th birthday set celebrating blues singer and guitarist John Lee Hooker. While that extensive collection consisted of Hooker's own recordings from throughout his career, this centennial tribute to blues slide guitarist extraordinaire Elmore James offers a baker's dozen of James' songs interpreted by contemporary musicians including Tom Jones, Bettye LaVette, Warren Haynes and Billy Gibbons, Rodney Crowell, and Keb' Mo', among others.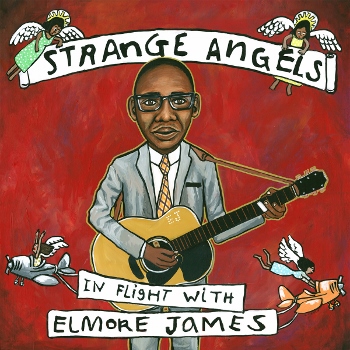 Recorded in various cities throughout the U.S., from L.A. to Nashville to New York City and Boston, Strange Angels: In Flight with Elmore James (Sylvan Songs Records) features a mostly house band (dubbed Elmore's Latest Broomdusters) joined by a rotating line-up of guest vocalists and musicians. Although not all of the interpretations here are presented in a straight blues fashion, with Rodney Crowell and Jamey Johnson, for example, adding a country-fried flavor (through both their vocals and acoustic guitars) to songs like "Shake Your Money Maker" and "It Hurts Me Too", respectively, and other tracks having a jazzy, Americana, soul or pop style, the end result is a diverse, intriguing set that blues fans will easily appreciate and welcome to their collections.
James' signature slidework is of course much celebrated here, often emanating from the guitar of the Broomdusters' designated slide man Doug Lancio, but also by others such as fellow Broomduster Larry Taylor, who contributes both slide and upright bass on Tom Jones' punchy "Done Somebody Wrong"; Joe McMahan; Duke Levine; longtime Saturday Night Live bandleader G.E. Smith, who appears on Bettye LaVette's soulful, scratchy-throated "Person to Person"; Warren Haynes, who not only backs Johnson on "It Hurts Me Too" (where you'll also hear some terrific piano and B3 organ from Billy Earheart) but sings and is joined on slide by ZZ Top's Billy Gibbons for a gritty "Mean Mistreatin' Mama" that also features Cowboy Eddie Long on pedal steel and Mickey Raphael on harmonica; and Keb' Mo', who provides vocals and National guitar on a jaunty "Look on Yonder Wall", accompanied by McMahan on electric guitar, Lancio on mandolin, and Sonny Barbato on accordion. A jazzy, brooding "Dark and Dreary" with breathy vocals from Addi McDaniel is, in fact, the only track here absent of slide, relying (quite successfully) instead on the violin of Darol Anger along with accordion from Barbato, acoustic guitar from Levine and Thomas Juliano, and bass clarinet from Bob D'Ambrosio for a nice change of pace.