We can't recall why exactly we never got around to telling you about Danielle Nicole's 2015 debut solo album Wolf Den, but it's certainly one worth checking out if you haven't done so. Whether you like what you heard there and are returning for more or choose to use it as more of a starting point for working your way back to Wolf Den, the recent follow-up release from this bass-playing, blues-belting siren is even stronger: if Wolf Den is an album you should own, then Cry No More (Concord Records) is one you must own, sounding a lot like the kind of breakout album Just Won't Burn was for Susan Tedeschi or Nick of Time was for Bonnie Raitt.
If Danielle sounds a bit familiar, it may be that you recognize her from her former stint alongside her brothers Kris (drums) and Nick (guitar) Schnebelen in the much-acclaimed, International Blues Challenge-winning family trio Trampled Under Foot, which the siblings decided to disband in 2014.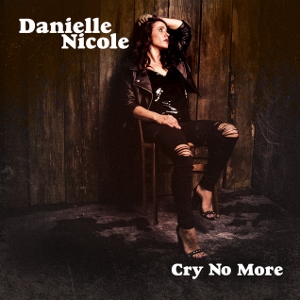 But it's clear that Danielle hasn't just pushed those days to the past, calling upon former Trampled Under Foot producer Tony Braunagel (Taj Mahal, Bonnie Raitt, Eric Burdon) to co-write a handful of songs (including the swaying, soulful title track), play drums on, and produce Cry No More, as well as guitarist brother Nick Schnebelen for the opening number "Crawl", a powerful, rocking song on which Danielle — who, in 2014, became the first female winner of the Blues Music Award for Best Instrumentalist-Bass — immediately
takes charge both lyrically ("crawl when you want love, crawl on your knees, crawl if you wanna' get next to me/ If you want my love back at all, then get down and crawl") and with her commanding delivery.