We liked the Forrest McDonald Band's earlier album Turnaround Blues so much that we wondered if we'd ever hear another one quite that good from them. Not that the band's 2017 follow-up album Stand My Ground was anything to sneeze at: spotlighting the powerful vocal work of Becky Wright, the album was indeed a solid one and very much worth checking out, even if it didn't attain quite the same level of impressiveness as that previous release.
Now a few years later comes along McDonald — who, you may recall, spent part of his career playing guitar for the likes of Bobby Womack, Bonnie Bramlett, and the famous Muscle Shoals Rhythm Section, including having contributed that instantly recognizable guitar work on Bob Seger's hit "Old Time Rock and Roll" — and his band as strong as (if not perhaps stronger than) ever with their latest recording Blues in a Bucket (World Talent Records).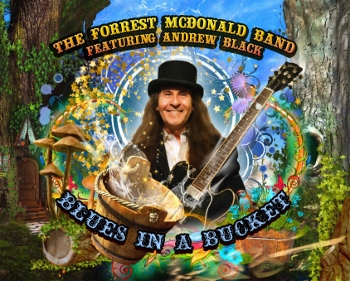 Wright makes a fine return appearance, guesting on vocals for two tracks, the gritty, slithering "Powerhouse" and the closing "Let the Love in Your Heart", an upbeat catchy duet that sounds like it could have come straight out of a Disney movie or parade. But most of the vocals this time around are handled by the immensely talented Andrew Black, who we also heard a bit from on Turnaround Blues and whose dynamic range of R&B/soul stylings is in a rare league with such names as the late Michael Ledbetter, Ty Taylor of Vintage Trouble, and Brian Templeton of The Proven Ones.
Continue reading