Those who may not recognize New England pianist Anthony Geraci simply by name will no doubt be familiar with him through his longtime "day job" – or perhaps more accurately in this instance, being that he's a musician, "night job" (or should we just say "primary gig"?) – as keyboardist with the internationally known Sugar Ray & the Bluetones. A founding member, in fact, of both Ronnie Earl & the Broadcasters and the Bluetones, with whom he's spent the past three and a half decades, Geraci has, both alone and with those bands, played and recorded with some of the world's greatest blues musicians.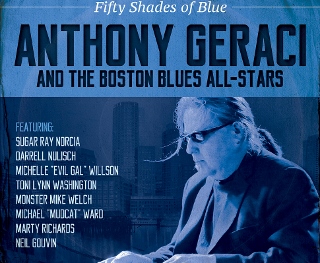 While Geraci's debut recording on Delta Groove Music may initially appear little more than another terrific Bluetones record, featuring as it does fellow band members "Monster" Mike Welch on guitar, Michael "Mudcat" Ward on bass, Neil Gouvin on drums, and Sugar Ray Norcia on vocals and harmonica, a closer inspection reveals that Fifty Shades of Blue truly is more about Geraci than his band: in addition to his fellow Bluetones, the album includes appearances by several other artists with whom Geraci has worked throughout the past five decades, among them, vocalist and harmonica player Darrell Nulisch (Anson Funderburgh & the Rockets, Ronnie Earl & the Broadcasters, James Cotton Band) and female vocalists Toni Lynn Washington and Michelle "Evil Gal" Willson (collectively dubbed "the Boston Blues All-Stars" for purposes of this project), with Geraci also having penned each of the baker's dozen of songs that appear here, along with producing the record.
We've never met or talked with Geraci, but we have been fortunate enough to hear him play as part of the Bluetones (and to speak with his colleague and fellow Bluetones founder Michael "Mudcat" Ward a while back about the band and their Living Tear to Tear album) and would have to guess from this recording that he's a bit of a modest guy: he doesn't sing, so he's brought in a few guys and gals he knows can, and the contributions from his bandmates and other guests help make Fifty Shades of Blue a lot more than just another album of blues piano numbers. While Geraci's playing is of course prominent throughout the project, it's never overdone, with the frequency and length of Geraci's solos nicely balanced by those from the other musicians, resulting in a diverse and delightful mix of well-written tunes that span the spectrum from straight blues to country and jazz to boogie-woogie and more.