It's been four years now since "The King of the Blues" B.B. King moved on to the big blues gig in the sky and what some might consider the better world of which he frequently sang, but the band that backed him has continued to play on, bringing their music to stages around the world and, now, to the headphones and speakers of fans everywhere with an album entitled The Soul of the King (Ruf Records).

A mix of King covers and band originals, the album finds the band — with its collective experience of more than 100 years playing not only with King but with the likes of Clarence "Gatemouth" Brown, James Brown, Pops and Mavis Staples, Buddy Guy, Carey Bell, Bobby Rush, Charlie Musselwhite, Otis Clay, and Isaac Hayes, among others — joined by guests ranging from blues veterans such as Taj Mahal, Kenny Neal, and Joe Louis Walker to established acts like Kenny Wayne Shepherd, Diunna Greenleaf, and Jonn Del Toro Richardson, and rising stars like Michael Lee of The Voice fame.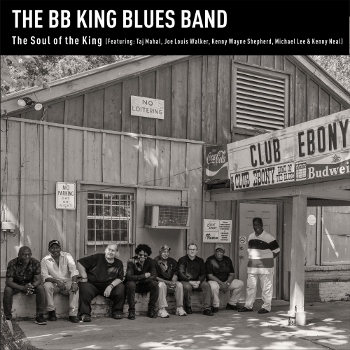 While several of the tracks will of course be familiar to fans of King and the blues more generally, including King hits such as "Sweet Little Angel", "There Must Be a Better World Somewhere", "Paying the Cost to Be the Boss", and "The Thrill is Gone", the album also allows members of the band to step forward and shine in a way that may just never have been possible sharing the stage with B.B., not because B.B. would intentionally deprive his band members of that attention (frequently giving them opportunities to solo, in addition to opening each show with a few warm-up songs before King made his appearance) but simply because of B.B.'s commanding presence, which helped earn the bluesman so many Blues Music/W.C. Handy Awards for Entertainer of the Year from The Blues Foundation that they named the category after him (now the B.B. King Entertainer of the Year Award)!
Continue reading