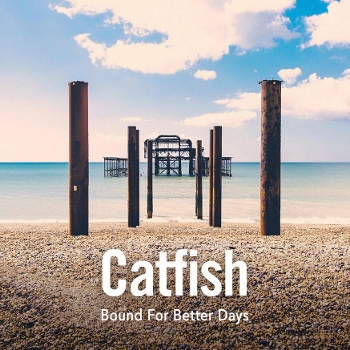 One of the many bands that helped get us through the long pandemic with their livestream performances was UK blues-rockers Catfish. While an earlier album and DVD, Exile – Live in Lockdown, allowed fans to hear and see the band in their full blues-rocking glory, capturing the four-piece band in the same room together for the first time in five months during an onstage concert appearance, many of Catfish's other performances during the lockdown required a much more stripped-down approach.
That served as the inspiration for this latest release, the five-track EP Bound for Better Days, which finds the band offering acoustic takes on four of its own songs along with a beautifully intense cover of Elton John's "Sorry Seems to Be the Hardest Word" that proves that singer and guitarist Matt Long is just as talented on the tender songs as on the rockers for which the band is so well-known.
The EP starts with a 9+ minute, western-tinged "Broken Man" that stretches from such quiet touches as the soft staccato piano notes from Matt's father Paul Long after the first chorus and Kev Hickman's percussion slaps a bit later to Matt's powerful, building vocals and guitar heard throughout the song.
Continue reading