Recently, we told you about the upcoming release from Big Head Todd & the Monsters' bluesy side project – what you might call the Dr. Jekyll to their Monster persona – the Big Head Blues Club, a follow-up to the club's 2011 Robert Johnson tribute album that, this time around, focuses on the music of one of the most prolific songwriters in the history of the blues in the great Willie Dixon.
Kicking off on a swinging, horns-laced "Hidden Charms" that nicely captures the song's original magic, the band follows up with a quickened, keys-drenched and slightly funky take on "The Seventh Son", sounding like they've been performing these songs on a nightly basis for years.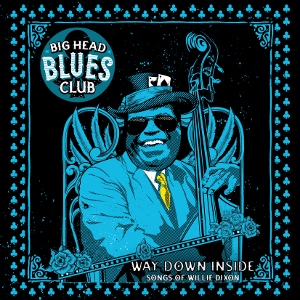 Though the Monsters seem to do just fine on their own, with lead singer Todd Park Mohr's fluctuating voice working particularly well on songs like "Hidden Charms" and the closing, slow shuffling "Sittin' and Cryin' the Blues", the addition of several special guests helps give further diversity and authenticity to the project, with Mud Morganfield (son of McKinley Morganfield, who most know by the stage name of Muddy Waters) lending his deep, very Muddy-ish vocals and terrific laugh on an upbeat "You Need Love" (from which the album's title of Way Down Inside derives) that starts out creeping and then picks up to a rocking tempo, and a swaggering "I Want to Be Loved", both also featuring Chicago bluesman Billy Branch on harmonica.